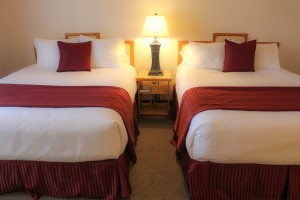 The Clearwater 12 Motel has 16 2 Queen Bed Rooms four our guests to relax in.   They include 26-inch flat screen tvs, irons & ironing boards, blow dryers, microwaves, a refrigerator and individual coffee makers.
Our Check In Time is 3 pm; and our Check Out Time is 11 am.
Full hot complementary breakfast is served daily from 6:30 am to 9:30 am daily.
Price is for 2 adults.  Add $10 per adult for every adult over 2.
Pets: There is an additional pet charge of $10.00 per night per pet.